Neighborhood: Back Bay
Back bay is the quintessential Boston neighborhood: walkable, urban, but with historic architecture and culture. Newbury Street is lined with upscale shops and restaurants, and the Prudential Center and Copley Mall are just across the street. Boyleston Street runs from Back Bay up to Park Street and the Boston Common, so it's an easy walk to the center of Boston. While still urban, Back Bay feels open and green, with more open space and lower buildings allowing in sunlight.
Back Bay is easily accessible by several T stops: Copley Square and Prudential stops on the Green Line, Back Bay on the Orange Line, and Back Bay on the commuter rail. Amtrak also departs some trains from the Back Bay station. In addition, several bus routes go through copley, as it is a popular destination for commuters going to work.
Apartments in back bay range from brownstones to luxury high-rise apartments. Rents can be high even for Boston, as Back Bay is a very desirable neighborhood. Apartments tend to be of the 'luxury' style and pricing reflects that.
Studio apartments in some of the newer high-rise buildings can be as small as 450sq ft, and 1-bedrooms start at 600 square feet. 2 and 3-bed room apartments can range from 1000 up to 2000 square feet. Some of the higher-end buildings such as 30 Dalton have penthouse suites, with over 4000 sq ft of living space – and the prices to match.
Back Bay is very walkable, and most people do not have or need cars. If you do have a car, expect to pay extra for a parking space, either in your building (if available) or on the street or alley (as is often the case with brownstones).
Notable Back Bay Apartment Buildings:
30 Dalton is a brand-new (2019) 25-floor apartment building in the heart of Back Bay near the Prudential Center. Its high-end residences feature floor-to-ceiling windows, elfa Decor closet systems in the bedrooms, and KitchenAid appliances Moen sinks, and quartz countertops in the kitchen.
A special feature at 30 Dalton is the 26th floor — accessible to all residents, it is a communal area with a lounge, fireplace, fitness center, and terraces with views of the city.
Avalon Exeter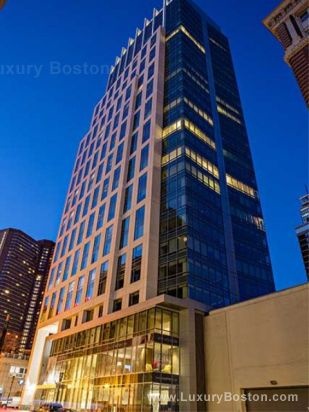 Avalon Exeter is another new building in Back Bay. 28 stories tall with 187 units, it officially opened in Spring of 2015. The building itself is connected to the Prudential Center mall and Copley Place, which you can access without stepping outside – including a Star Market grocery.
Security deposit is only $1000. The building is pet-friendly too: dogs will require an extra $100/mo fee and cats $75. Storage units are also available in the building for $100-$400 per month, depending on size.
Electricity is paid by the resident, while all other utilities are covered by the building.
Parking is available for an extra $500 / month. There is also a zipcar on the property that members can use.
Maintenance is available 24/7, which is a nice benefit not all luxury buildings offer. So if you have any issue with your apartment, you can quickly get it resolved. Concierge services are also available 24/7 and can assist with dry cleaning, package delivery, local recommendations, and more.
A restaurant is also on the building premises — Porto, by renowned chef Jody Adams.
Avalon Exeter is very close to several T stops — the Orange Line Back Bay stop, and the Green Line Copley and Prudential stops.
Avalon also owns several other properties around Boston, including:
AVA Theater District, Avalon Prudential Center, Avalon North Station, Avalon Bay, Avalon North Point, Avalon Assembly Row,
One Back Bay
135 Clarendon Street
Boston, MA 02116
One Back Bay is one of the taller buildings in the area, with 33 floors and 176 units. It was completed in 2009. Studios start around $2550, 1-beds around $2850. 2-bedroom units start at $4200 and go up to $5000.
Units feature marble baths and laundry in-unit. Shared ammenities include a magnificent rooftop sundeck, stunning entertainment lounge, interactive children's playroom, convenient bicycle storage, and 24/7 concierge services. There is also a fitness center managed by Equinox.
Church Park is a modernist, concrete apartment building in Back Bay with studio, one-bed and two-bed units, although most are studio and 1-bed. Rents start around $2300 for a studio, and go up to $3800 for a 2-bedroom unit.
For ammenities, there is a fitness center, penthouse community room, roof deck with BBQs. There is concierge services (although it's not clear if it's in the building or on-call), 24-hour security, and on-site management and maintenance.
Church Park has parking available in its underground garage, and there is a Zipcar stashed there if you need a sometimes-car.
Although it's an older building, and not as nice as some of the newer ones, what Church Park has going for it is its location – it's very close to the Shops at Prudential Center, the Copley Place mall, and tons of restaurants. It's also positioned on the side of Back Bay closer to the South End, so you're just a block away from quaint brownstones and a quieter feel.
Avalon Prudential Center is a high-rise apartment building built in 1968. It is connected directly to the Shops at Prudential Center, so dozens of shops and restaurants are directly at your feet. Parking is available in the underground garage. Studio, 1-bed, 2-bed, and 3-bed units are available. Heat, hot water, and AC are included in the rent. Pets are allowed, but require an extra fee and only cats.
Studios start at $1995; 1-beds at $2493; 2-beds at $3495. Pricing for 3-bedroom units is only available by contacting the leasing office. Unlike most apartment buildings, Avalon Prudential Center offers furnished apartments, too.
"AVA" is a new brand from the Avalon property management company. Several AVA properties are scattered around Boston. AVA Back Bay, as you would expect, is in the heart of Boston's Back Bay neighborhood. Like Avalon Prudential Center, it's connected directly to the Prudential Center / Copley Mall.
Studios start at $1765; 1-beds at $2,115; 2-beds at $3,340. At the high end, 3-bedroom units start at $6,025 — which are over 1,900 square feet!
Parking is available in the underground garage, and starts at $150. AVA Back Bay is dog and cat friendly, with fees of $75 – $100 monthly per pet. However, some dog breeds are not allowed. See the full pet policy for details.
AVA Back Bay's main draw is its location — just outside your door is the very heart of Back Bay, and all the shopping and restaurants you could ever want. However, AVA Back Bay also has some great ammenities like common areas to socialize and relax, and the building management organizes social events for residents. There is a fitness center and bike storage.
In the units, you'll find washer/dryers, wood floors, and air conditioning.
Back Bay Restaurants and Bars
It's hard to pick just a few restaurants out of the hundreds in the Back Bay. One highlight is Eataly, the Italian megastore. Under one roof in the Prudential Center, Eataly offers an Italian grocery, butcher shop, bakery, wine, a cheese monger, made to order pizza, gelato, coffee, and 3 different restaurants. Eataly's Terra is the more upscale restaurant, located on the 3rd floor.
On the more casual side, healthy options like Dig, Sweetgreen, and Cava are popular with local office workers.
On Newbury street, fashion houses sit side-by-side with restaurants and cafes. La Voile is an excellent French bistro. Stakehouses like Abe and Louie's, The Capital Grille, are popular with executives and couples on special date nights. Stephanie's is a Back Bay tradition, and its sidewalk seating makes for a popular people-watching spot.